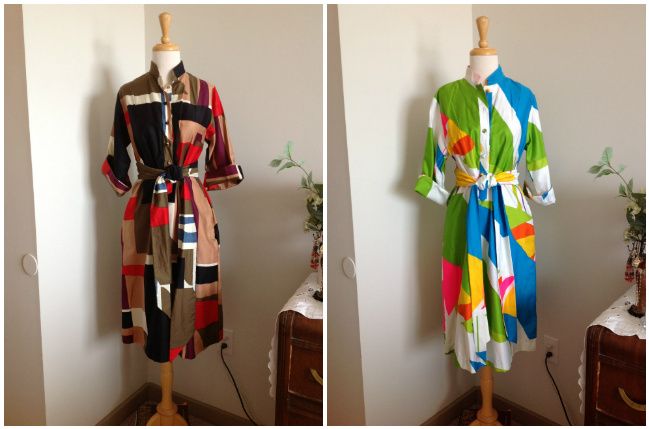 Purchase
Purchase
When I came across these dresses, I just knew they were something special! The gorgeous print. The easy fit. The soft cotton. So I snatched them up right away! (Originally, there were three of them, one has already sold) I did some research on the brand and LOVED the concept!
Catherine Ogust for Penthouse Gallery
The name sounds like porn wear, no? However, Catherine Ogust was a print designer for Penthouse Gallery. The above dresses are referred to, by the brand, as The Forever Dress, because it's such a classic dress, it can be worn forever! THAT'S the concept that I love: a print and tailoring that never dates. The hem can be taken up. Wear with or without a belt. Swap the belt out. Or even wear in the current popular style of pencil skirt over the dress with the hem flaring out the bottom! (
Info Source and a great read!
)
When I look at these, I can't help but reassert, "THIS is why I love vintage!!"
As you're shopping, please don't forget to peruse
Bella's
store
. She has such novel vintage items! And
Terri
has a growing
eBay shop
that exemplifies her classic style and vintage flair! Now, more than ever, there are so many options to
Shop Secondhand First
!