Sweet Bella recently did a post on shopping second hand. It's brilliant in concept and execution! And while most of us completely understand the financial benefits of thrifting, have you considered the benefits that have almost nothing to do with money?
It's good for the environment.
The effect of constant manufacturing of textiles to keep up with the demand of fast fashion has a definite footprint on our environment. To read more about it, check out this article by the National Center for
Biotechnology Information.
There's a better selection at your local thrift store
Seriously, there is! Recently, I went to the local mall and left a bit frustrated. Sure, beautiful things in every window; but for the most part, everything started to look the same. I could go into Ann Taylor and see 15 - 20 unique items (for the time I spend in the store). I can spend the same amount of time in my favorite Goodwill and never see a duplicate item! I love the varied selection!
Access to unusual items
I'm so fortunate to live in such an ethnically diverse community! On treasure hunts (thrifting), I've come across a wall hanging from Iran, Turkish slippers and a plethora of Indian tunics. Even if I could find some of these things at a local retail store, chances are they wouldn't all be in the same store; or they'd be lacking in authenticity.
Giving to a good cause
Most thrift stores represent a charity.
Goodwill
provides job training.
Salvation Army
helps families in need.
Hospice
Thrift provides end of life care to the terminally ill.
Cause for Paws
helps find homes for unwanted or abused animals. The list goes on and on. When we shop at one of our thrifts, we are helping a good cause AND in many cases, also helping to provide jobs.
The vintage!!!
And now we're at what's really near and dear to my heart! VINTAGE! What's more beautiful than a piece that comes with a history and was loved by a kindred spirit from another generation? Here are a couple of beauties I've found recently.....
Vintage turquoise earrings....Be still my heart! I just adore these silver earrings. Genuine silver and turquoise, I'll have these babies till I exit to the hereafter!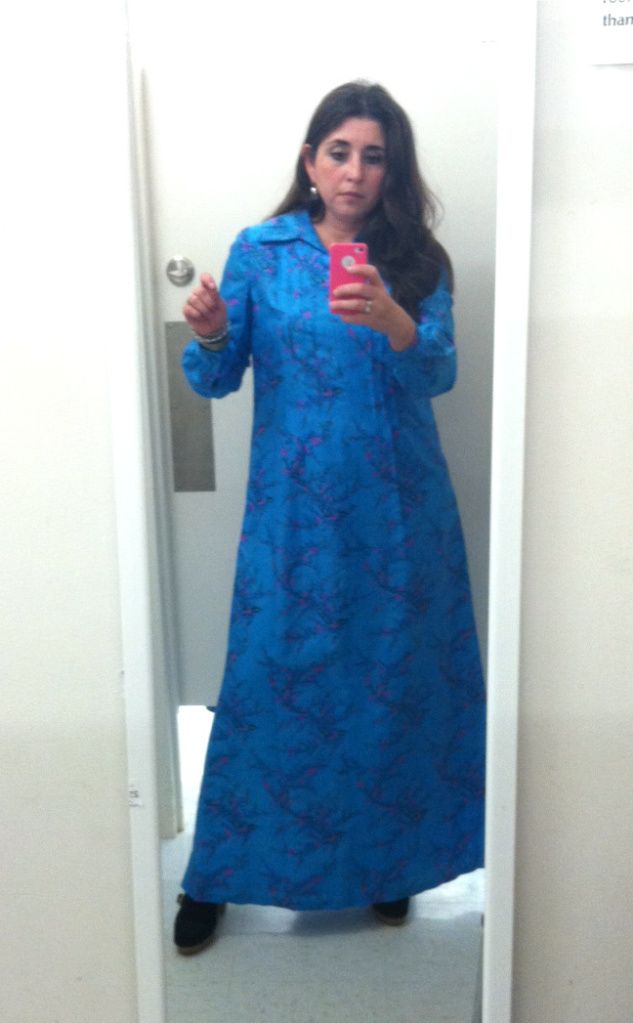 I found this hand made dress yesterday and just had to rescue it! I believe it's all silk and the fabric is totally breathtaking! I haven't decided whether I'll keep it or put it in my store. If I do keep it, I can see shortening it to the knee (NOT above) and possibly shortening the sleeves. I really don't do maxi dresses; but I just couldn't leave this baby behind.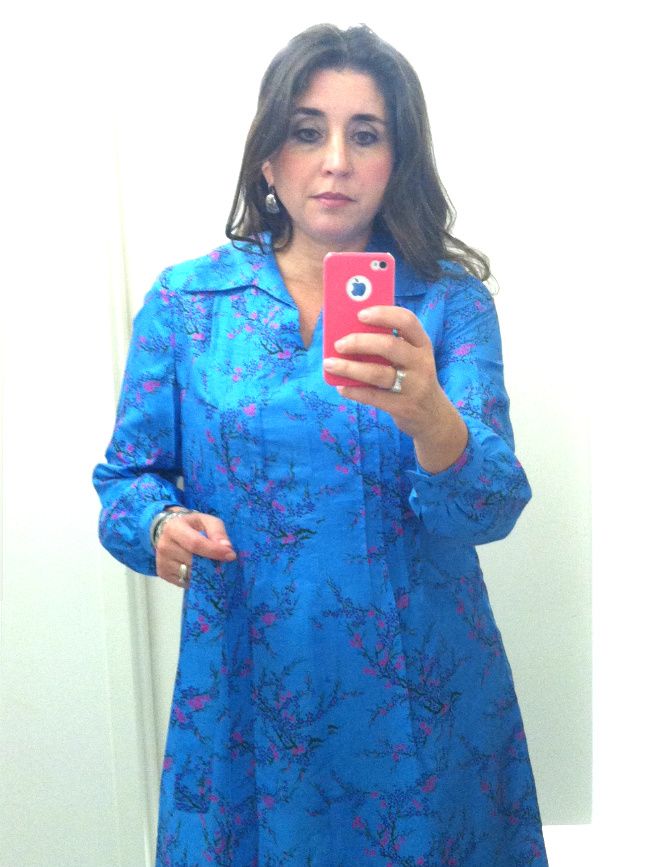 So maybe you're rolling in the dough and money is no object when it comes to shopping. I'd still challenge you to give thrifting a try. Check out one of the nicer thrifts in your area.... Goodwill is usually a good place to start.
And should you be so inclined, take the pledge to "
Shop Second Hand First
".....not only.....but maybe first every now and then.