A recent move and closet down sizing has prompted Patti to reexamine her wardrobe and making the most of what she has.
Believe it or don't, I have less closet space in our modern condo than in our historical cottage! Ohs noes, I shall have to edit the wardrobe yet some more. And the old one-in, one-out rule will still apply unless I can find a way to freeze-dry my clothing and then just add hot water to revive it! (Remember freeze-dried coffee? So cool at the time). (source)
While initially, a smaller closet may seem cause for some serious concern; there is a pretty bright silver lining! How much of what we have in our closets are we really over the moon about? Can we open the door to our wardrobes and smile at what we see there? And the biggest question: How much of what's in there do we actually wear?
The reality is that it's better to have 10 things that you LOVE to wear and feel fabulous in than 50 items that are uninspiring.
So, on that note, when I came across this dress at a recent yard sale, I was all set to list it in my store. Not believing it would fit, but curious, I tried it on and WOW! I just love it....the shape, the black & white scheme, the pattern....all of it makes for a piece that makes me smile grin!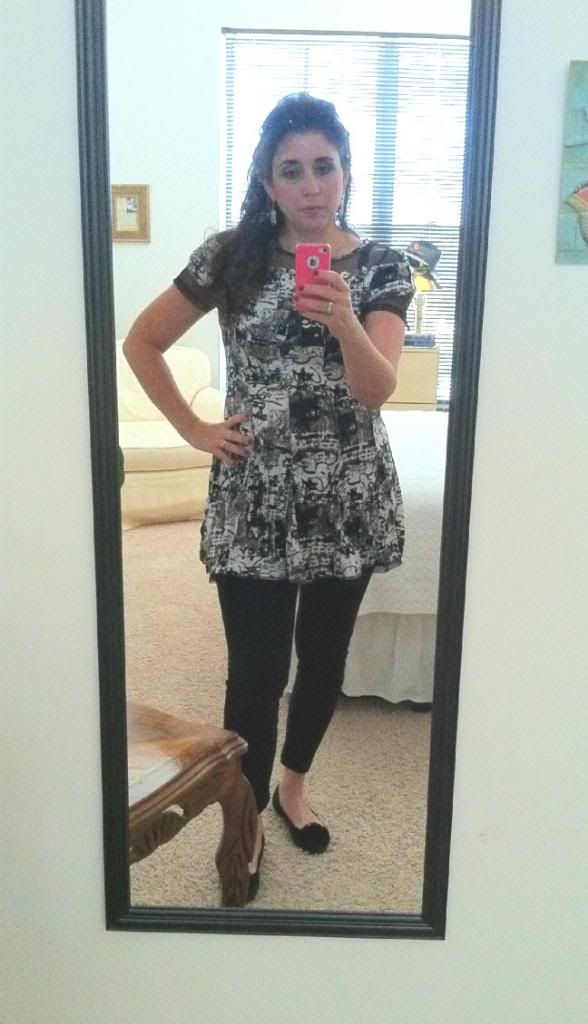 I initially tried it on as a dress and MAN! was that thing short! At least for me! And while my husband does love my legs and loves for me to show them, I just don't think I'd be comfortable risking showing sooooo much more!
Paired here with J Crew leggings and flats, it feels very gamine (something I'm really not!).
And shown here with my favorite black leather skirt (thrifted) and suede boots that I got in a recent swap with my daughter, I changed it up a bit by pairing it with a thin leather belt (thrifted).
For years now, I've been saying that I could make an entire wardrobe out of black and white and still keep it interesting. Pieces like this make it easy!
And I just can't help but mention that I don't have $5 in this whole outfit!
The skirt was thrifted at a church clothing drive that I helped with and I paid $1 for the dress at a yard sale about a month ago. The details on it are amazing....truly a boutique piece!