Well Happy New Year everybody!



I had a WONDERFUL Christmas! And for the first time in YEARS, I just didn't want the Christmas season to end. It was great having all the kids home, baking, cooking, playing cards, eating junk and laughing a LOT!
But now it's time to get started on 2013 and I'm excited about that too! While my blog has always had a prominent thrifting theme; I see that topic taking even more center stage this year. What has started out as a hobby has become a bit of a mission. With all my heart, I believe that we can dress EXACTLY how we want without incessant shopping or patronizing the fast fashion retailers.
Most of us know we can "make do" with thrifting, but I believe that we can also build an enviable wardrobe through 90% thrifting and 10% thoughtful retail purchases. And while we're doing that, we're cultivating our own personal signature style, not following trends, but identifying, embracing and creating our own aesthetic.
So, that being said, I want to start my first post of the year with just what I was talking about. Below is what I wore yesterday and can I just say, that much to my delight, everywhere I went I just collected compliments!! Well, my boots collected most of them!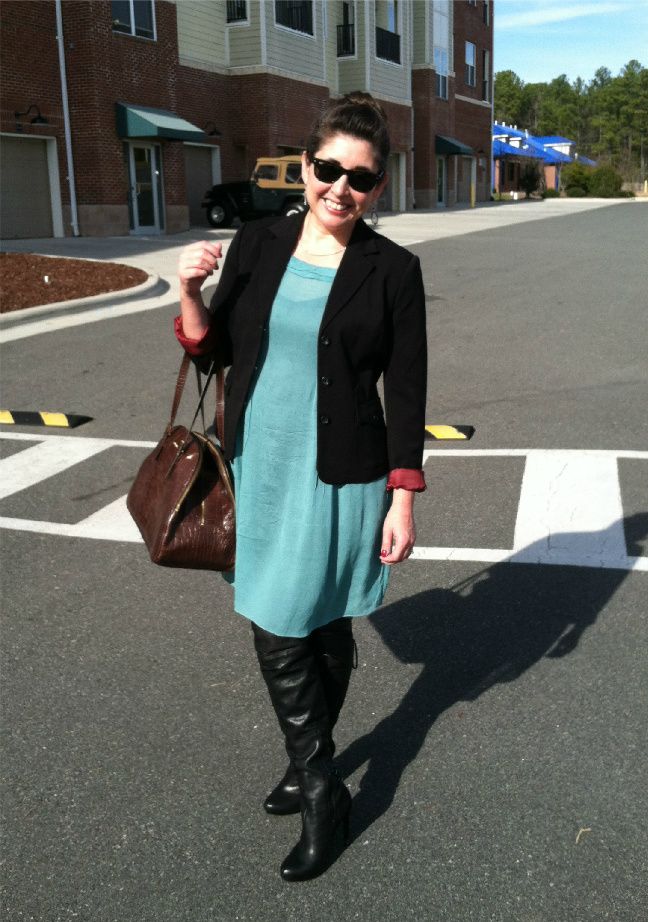 Dress: Soft Surroundings, thrifted Over the knee boots: Jessica Simpson via
TJ Maxx
Jacket: Thrifted Black Slip: Vintage, thrifted Bag:
Cynthia Rowley
via
TJ Maxx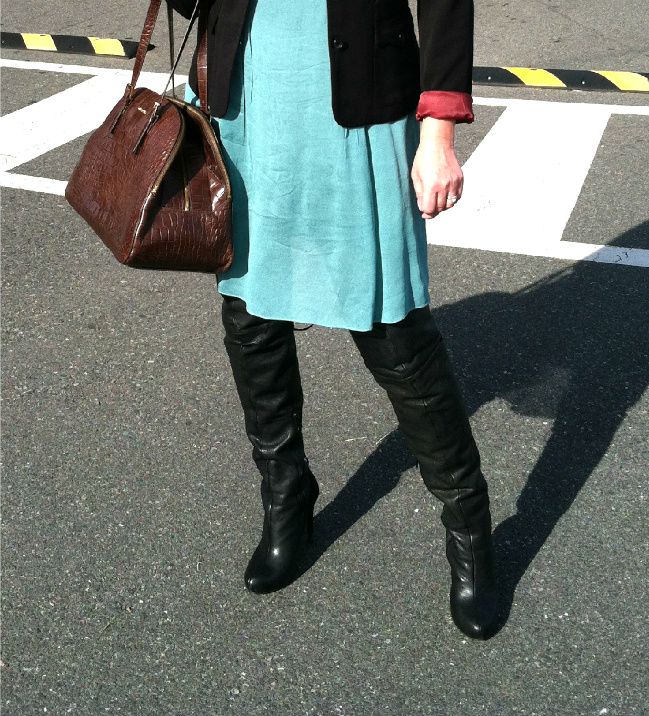 I purchased these boots last Christmas on clearance at TJ Maxx for (insert drum roll here) $56!!!!! That's right girlies! All leather, over the knee, high heel, corset back boots for only $56! They absolutely elevate everything that they're paired with!!
I thrifted the dress a few months ago and wear it often as a blouse, dress, belted, loose, you name it! As you can see from
here
, and
here
, I wear it quite often. For $4.39....it was a no brainer!
And one of my favorite things.....my new bag! It's the only new purchase I wanted to make this year. I'll save the story of this bag and why I think it's important to make a couple of well thought out retail purchases a year for another post. But lemme say here and now, I. LOVE. THIS. BAG!!
I'm linking up to
Patti's Visible Monday
today, so please be sure to check out all the very visible looks from your friendly bloggers!
Again, I ask everyone reading this to please consider taking the "
Shop Secondhand First
" pledge that
Bella
has started. Please take a read and while you're at it; feel free to take a look at
this article
on
Refinery 29
regarding the fashion industry's reliance on underpaid, overworked and very often abused labor. I simply can't, in good conscience, turn a blind eye to ramifications of our aspirational, fashion/trend, consumer driven culture. I truly want to be a part of the solution or at the very least, don't want to be hypocritical.
And last, but for me, not least. I'm going to be spending more time this year working on my eBay store. I'd be tickled to death for you to take a look! And while you're at it, be sure to check out
Bella's
goodies on
eBay
AND
Etsy
. And
Terri
has some fabulously fun pieces on
eBay
that you won't want to miss!