So as I'm taking pictures of a slew of
scarves
that I'm now selling in my
store
, it occurred to me to combine my favorite new necklace (the large cuff necklace at the top of the picture below....thrifted for $5!) and this gorgeous
silver scarf
. The scarf itself seemed like jewelry to me, so to combine them just seemed so natural. I think it makes for a GREAT statement look - the perfect way to add some drama to a neutral outfit!
Start with........
These are all of the ones I own. I inherited the bottom two from my mother. I rarely wear them, and now I'm wondering why!?
* Side Note: Don't we all have things we love in our closet or jewelry box that, for some obscure reason, we never wear them? I'm making it a point to pull those things out and actually wear them and not just love them from afar!
Dress up a basic black dress with a touch of drama. Of course, you could use any scarf you have. Long rectangle scarves work best for this....to keep it a bit more casual, you could use a really colorful or whimsical scarf.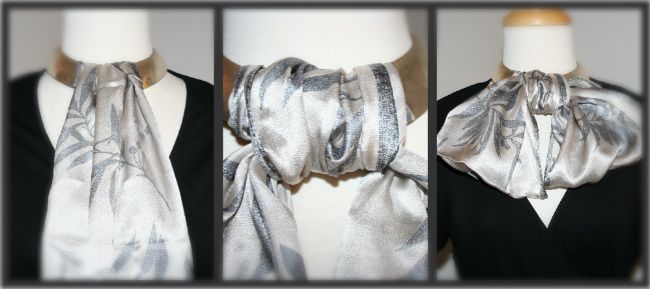 The scarf can be knotted around the neck cuff in a variety of ways.
Simply folded in half and draped over the middle.
Wrapped around a couple of times and then tied in a square knot.
Use that same square know and double back the scarf ends to form a fluffy bow.
Don't want it draping down the front? Why not wrap a silk scarf around your neck cuff and then tie off in the back?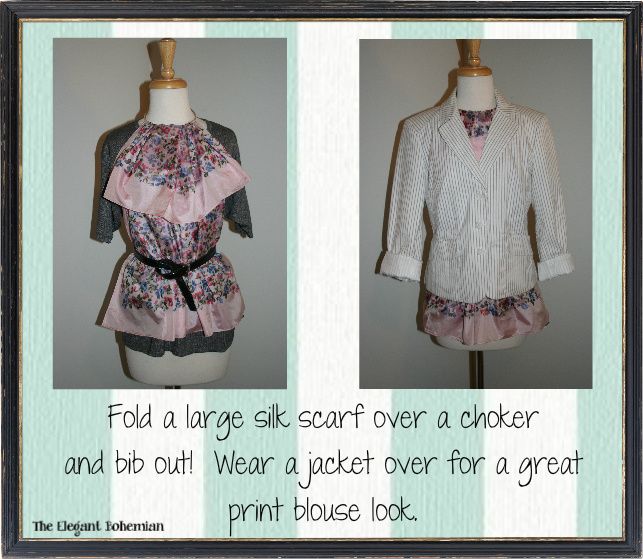 Of course, the neck cuff need not even show. Use a
large square scarf
and gather one end and drape over the front of the cuff. Pull it down as much as you want for a bib effect. You can then cinch the waist, like I've shown in the picture....or you can tuck it into a skirt or slacks. I've shown this worn OVER a
cashmere blend top
, but you can wear it with nothing underneath (just be sure to cinch it firmly enough that the girls stay put!)
Put a jacket over it and you've got a peplum-ish look. It's also a great way to take advantage of the great prints scarves offer without the price of a full silk print blouse!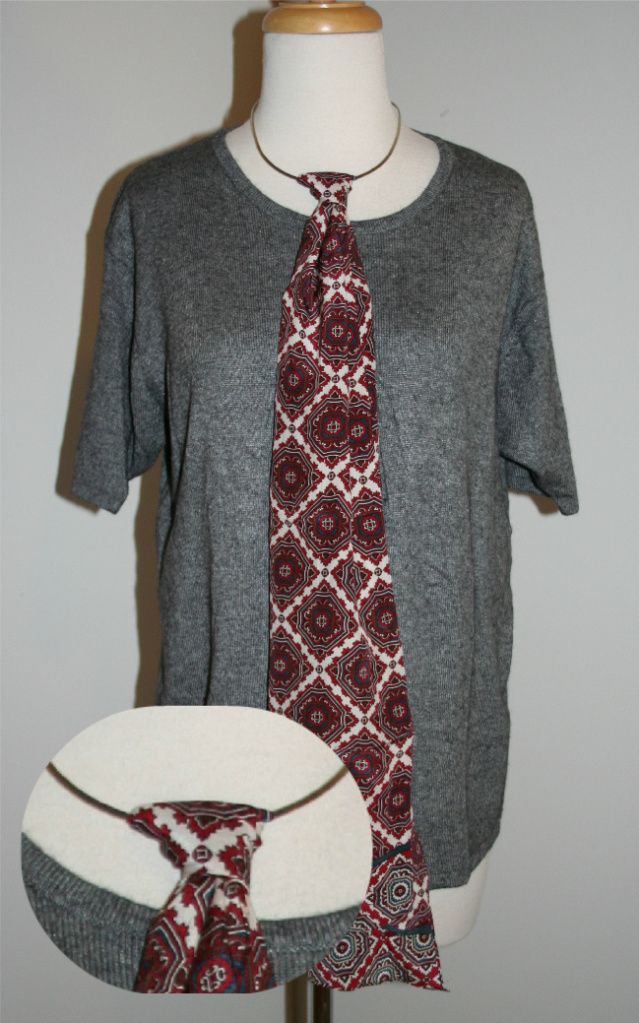 And finally, for now, tie your
scarf
like a men's necktie around your cuff necklace. I used my thinner necklace that is actually shaped to lay flat on the neck.
The more gorgeous scarves I find, the more I want to use them, but wearing them around my neck just gets too hot! As
Pam
can tell you, scarves are a great way to get more mileage from the basics that you have and mix things up in your wardrobe. I rarely see her without a scarf and she ALWAYS looks immaculately well dressed!
So please let me know if you give this a shot! It's given me a renewed motivation to think outside the box where my scarves are concerned!
By the way, everything in my
store
is 20% off right now!