And my love affair with all things suede and leather continues! I thrifted this vintage suede skirt at a little shop that I found not long after moving here last year. The color is so vibrant (shown better in the second picture). And it really can be worn all year long!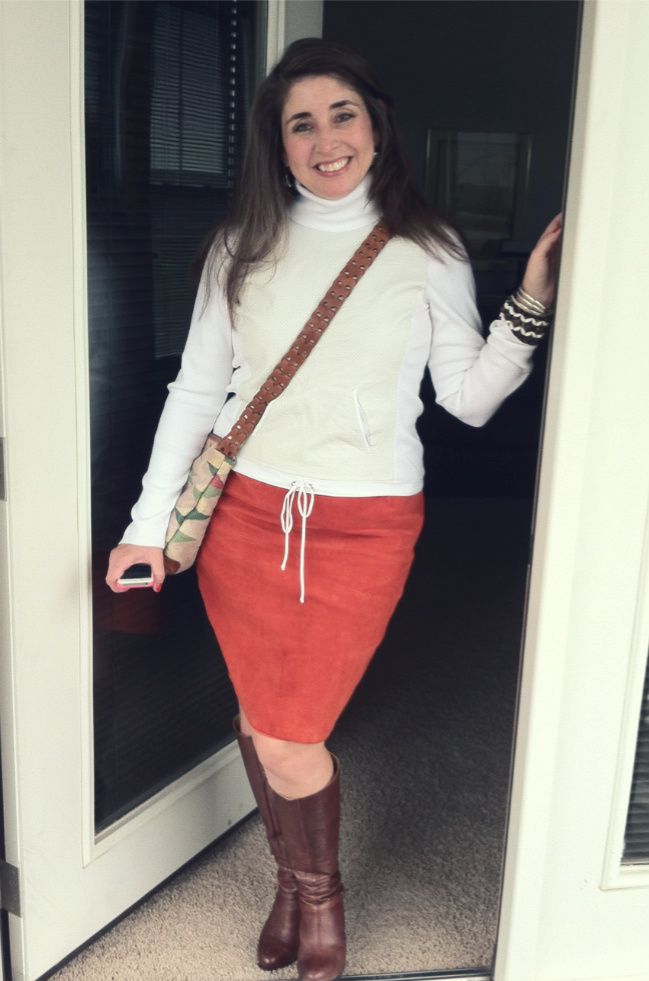 Top
: Hand me down from my aunt. It has a white leather panel on the front. Previously worn
here
.
Skirt: Thrifted & Vintage
Boots
: New!! My birthday gift from my sweet husband! T
hese
* boots, from
Nine West
, were a really big splurge! My husband told me to go get them, and was prepared to pay $200 for them. When we got to the mall, they had a sale!!!! and we got them for just under $150 including tax. For us, that's a HUGE splurge. HOWEVER, we justify this cost by the fact that about 98% of my wardrobe is thrifted at usually no more than $4 a piece. So to invest in a FABULOUS pair of shoes or boots that will last and look great for YEARS, just makes sense to me! What you can't see from the picture is that these have about a 5" heel on them. So 70s chic!!
BTW, take a look at these. Oh be still my heart, I would love to own these! But $250? Yeahhhhh, I just can't. But I WILL be watching them for a sale!
Purse
: Thrited. No brand label, but the strap is genuine leather and it's actually lined with the softest black leather you can imagine! I washed it via my
leather washing method
(which I learned from a customer of my
store
) and BAM! FABULOUS!!
See? It wears great in the summer as well!
Here's
the original post.
I'm hooking up (FINALLY) with
Patti
and
Visible Monday
! To be sure, I felt very visible today!
*No affiliate link or commission here, I just happen to love me some Nine West! They always have gorgeous shoes and boots at a price point where buying groceries is still viable!