All thrifted
I find that there is an apparent sartorial gap between what I like and what I'll actually wear. For instance, I really really like the cropped pleated trousers with heels. Reality? When I've tried that on, I feel like the biggest DOOBER in the world. In case you're wondering what a "doober" is, the best definition is something like this...
NOT a look or feeling that I'm going for. I WILL take that fruity drink though!
What I want to feel like is HER!
A little bit over the top....dramatic.....yet very elegant. Yup! Old Hollywood glamour! THAT'S what I'm talkin' about! Okay, so it may be too much for running to Starbucks, but once again, I'm after a FEELING. If I can't look like I just left Mr. DeMille at the Hollywood Cantina, I can at least FEEL like it!
Closing the Gap
So, there's still this gap between "I REALLY like that!" and "I could sooooo WORK that look!"; because ownership is key, right? And in order to "own" a look, we have to feel good in it, NOT just like the way someone else looks in it.
Here are some ways that I'm funneling all the looks that inspire me into elements that I can actually use in my wardrobe. So many styles catch my eye and my fancy, but realistically, for my own sake, those need to be edited into what becomes "Serene style".
1. Look for the common thread. It hit me as I was reading comments and looking over my last post, "Hey wait, they all have belts on!" BINGO! Personally, I love belts and what's even better? They love me back! Obviously belts play a major part of my signature style!
2. Try EVERYTHING and then be honest. As I mentioned earlier, I LOVED the cropped trousers and heels on just about everyone I've seen wearing them. Especially The Style Sample....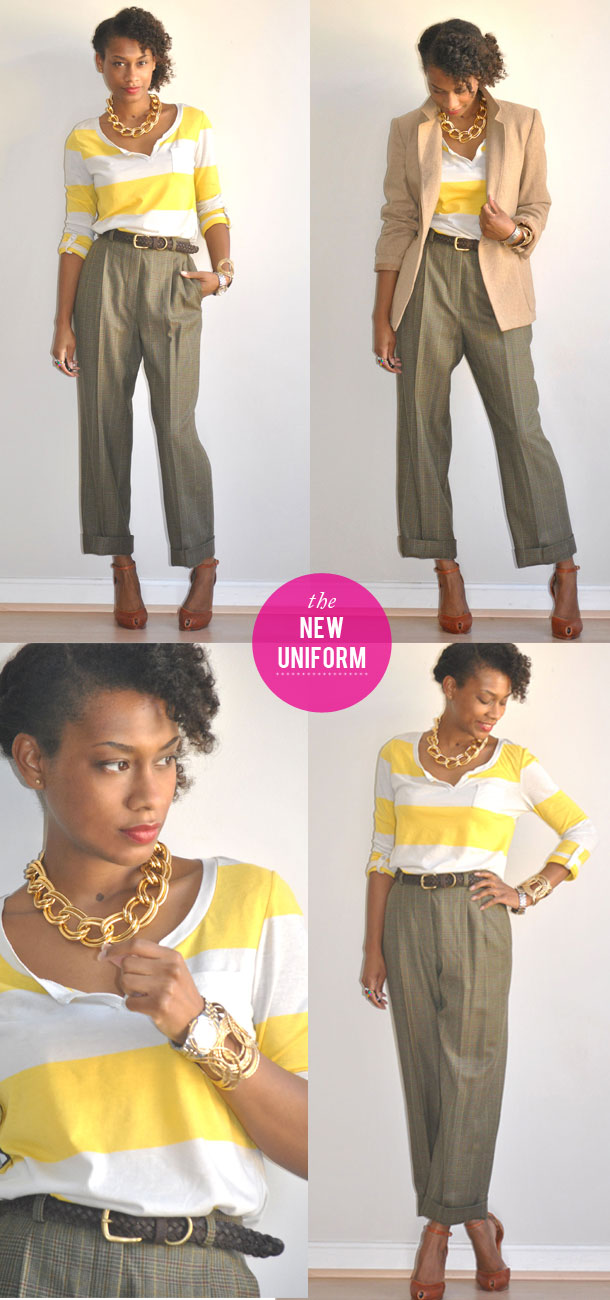 Source
This girl has AMAZING style!
But they don't look like that on me. We have different bodies and silhouettes. So now when I see this look, I can say, "TOO cute!" and then just move on. No room on my mental inspiration board for "tried and found untrue" styles!
3. Pinpoint what's captivating you. What is it, ultimately, that I'm really feeling about the look above AND the pics from my previous post?
Answer: Long lines. Flow is elegant to me. It doesn't mean it has to be monochromatic, but I like to take in an entire look and not be distracted by pieces of it. That's what really draws me to all these looks.
As a style-ophile, I find inspiration EVERYWHERE! But to get to my signature, culling these inspirations is crucial.
What's the common thread of looks that you're drawn to?
BTW, Pam at Over50feeling40 has talked about how she shops to create her signature "Pam" style and she uses The Foundational Five. It's a list of five criteria that an item must meet before she allows it into her closet. Brilliant!