Let me say from the start that I would love to have a photographer available to me when I'm freshly groomed to take my picture in the perfect outdoor glow. Alas, I do not! And if I have to start dragging out the tripod and timer, well......, let's just say, I'd probably never post again. So here we with are with the handy iPhone and mirror and what can I say? It works for me!
Also, as I mentioned before, my blog has a concerted thrift theme now; but not just why thrifting is great, but also how a great wardrobe can be compiled through shopping second hand. So, actually, the emphasis of my posts are really less to do with the exact pieces I'm wearing, but more to do with how things are put together and finding one's own aesthetic.
This dress is Tracy Porter, and apparently, Anthropologie used to carry some of her items. My understanding is that her company (apparel end) has gone bankrupt and is no more. When I spotted this dress, I just KNEW it was quality. The colors, the long wide matching sash, the silhouette.....all of it just spoke "Top Notch!". And when I tried it on and the fit was great? We're going home together little loud dress!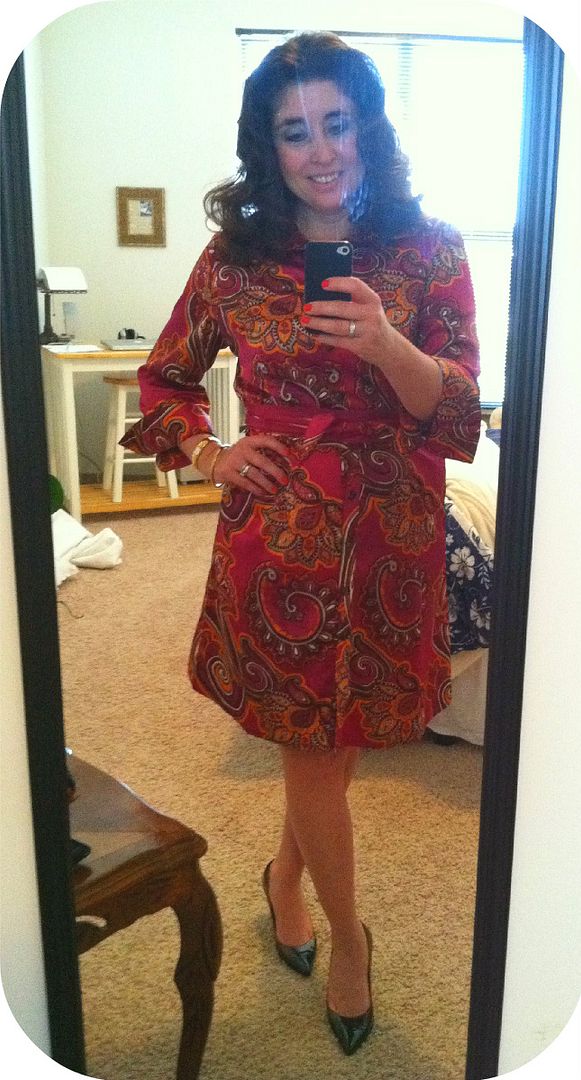 I kept everything else simple. An elegant heel and minimal gold jewelry. Really, it's all about the dress and the dress speaks volumes!
Other ways I'll style it:
With skinny jeans
Worn open over black cigarette pants, like a jacket
With a brown leather belt
With my high heel brown Nine West boots
With a skinny belt and cute flats with the sash around my hair
Dress: Tracy Porter, thrifted, Shoes: Ann Taylor, Yard Sale for $2!
There is about $7 in this whole outfit!!
I also want to take a quick moment to add that although I am an avid advocate of thrifting (for MANY reasons), at the Elegant Bohemian,
no one gets "should" on
! Truly, my purpose is pure: to showcase thrifted finds with the intention of building a great wardrobe regardless of your budget. Period. I'm absolutely NOT saying...
You SHOULD be thrifting!
You SHOULD love it!
You SHOULD never shop retail again!
You SHOULD be as bothered by fast fashion as I am!
You SHOULD do what I say!!!
NO! One thing I LOATHE is for someone to should on me! So whether you love to thrift, think it's disgusting, are mildly curious or it just ain't your thing, you've got a friendly little corner of the internet right here!
Oh! And sliding it in at the last minute, but hooking up with
Patti
for Visible Monday!
Peace Love and SOUL to you all!