Have you seen the I Love Lucy episode where they go to Paris and Lucy insists that she has to have a very expensive Parisian designer dress? Not one in particular, but ANY one actually, because, well....IT'S PARIS! And we all know that Paris is THE final word on what's fashionable.
The punch line of the show is that Ricky and Fred have dresses made for them using burlap sacks and horse feed bags, and have the designer label sewn into said dresses! Well Lucy and Ethel are thrilled! As they dine at a local outdoor cafe, feeling "Oh so chic!!"; Fred and Ricky can no longer contain their amusement and give up the gag, to the horror of the girls. The following day, berated and humbled, the husbands have consented to purchase the real deal for there wives. As they're all sitting at the same cafe, the models from the famous Parisian fashion house walk by wearing the EXACT same outfits (and coming off "Oh so chic!!") that were the butt of the joke the day before!
And while that makes for a hilarious bit, aren't we really the same? I've seen the below picture of Anna Dello Russo all over the street style blogs a while back (shows you how long I've been sitting on this post!) with comments lauding her style and creativity. Apparently Ms. Dello Russo can do no wrong when it sartorially speaking.
But do we really believe that? If I walked into my local Starbucks to pick up a Cafe Misto and a woman walked in wearing that hat, would I clasp my hands to my chest, throw my head back and swoon over the fashion statement she was making? Probably not. In my opinion, it's a silly hat that isn't practical or flattering and for the most part, serves only the purpose of garnering attention.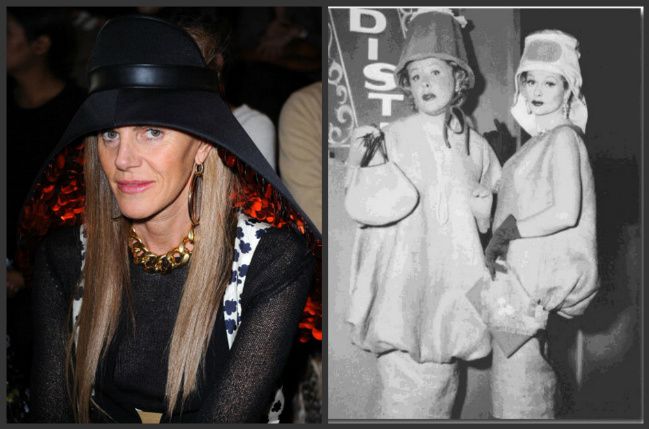 But it's amazing how our perspective is changed when A) A fashion icon wears something or B) It's a designer label. Our label love is the delight of design houses everywhere!
Case in point: Do we REALLY like Carrie's outfit that she wore to a Middle Eastern Market? Or have we been TRAINED to like it because, after all, Carrie Bradshaw is Fearless Fashion Icon?
If style is performance art, then I get it....it's all good. But if style/fashion (I know they're not the same, but I'm making them quasi synonymous for the sake of this post) is about putting one's best foot forward and showcasing
OURSELVES
, then sporting labels for the sake of labels is counter productive and, dare I say, kind of silly? But don't we know this already? Even though we may get caught up in the fashion game every now and then, don't we all really know what's for show and what's really wearable; regardless of the label?
I used to love to shop or magazine peruse with my mom. Often, we'd find ourselves critiquing designer looks with the question,
"If I saw this at Walmart, would I still like it?"
If the answer is "No" then it's "No".
If that Marant shoe is fabulous, then by any other name, it will still be fabulous. If not, then it wasn't so hot to begin with!