Sunday evening found me in a creative frenzy. I had quite a few items in my closet that I have thrifted in the past month or so that I needed to tweak or completely refashion. As I started pulling down the pile, piece by piece, this dress fell out. As soon as I saw it, I remembered getting it because I really like the pattern. But this dress was definitely done in the 1940s librarian style.....very conservative, very long in the length and high in the neck and frankly, a bit "little old ladyish". I tried it on and it was snug in the backside and I was about to take it off and just redonate it when I dug past the mock wrap and found that it was stitched down to my knee. I got Sweet Baby to cut the seam almost to the waist (because it was covered anyway with the mock wrap) and it loosened the hips right up!!! THEN, I knew I could work with this! I cut off about 6 inches off the length (I find that I'm always saying "six inches off the length" so either everything I hem is precisely 6 inches too long or clearly everything looks six inches to me. I'm thinking it's the latter!). Then I cut the front down the middle and folded pieces under to make a v-neck (thanks Marissa of New Dress a Day!) and finally, the sleeves were a little too blah, so I cut right up the middle of the sleeves with pinking shears, ran a ribbon through the hem and "VOILA!", I have a peekaboo sleeve with a pretty ribbon detail.
One of the best things about this whole project? NO SEWING AT ALL! Everything was done with hem tape....you place it in between the layers you want to hem and then iron it. It sticks! I did the same with the raw edges at the neck. I took the excess fabric that I had snipped from the bottom and made a sash. But can't you just see this with a really big funky belt? Now, I absolutely LOVE this dress and it's one of my favorites! I feel like a complete design genius! Oh, and the necklace is my creation also. One of the benefits of organizing my jewelry is that I found old chains I had. I had snipped this crochet accent off of another dress, cut it down and then threaded my chain through the top. I LOVE it! I was so excited about wearing this Monday, I could barely sleep Sunday night. Like a kid on Christmas Eve! I will try to do better about taking before pictures. I have the attention span of a drunk gnat and so when I'm ready to get to a project, I just get going and don't think to take pics. So, what do you think?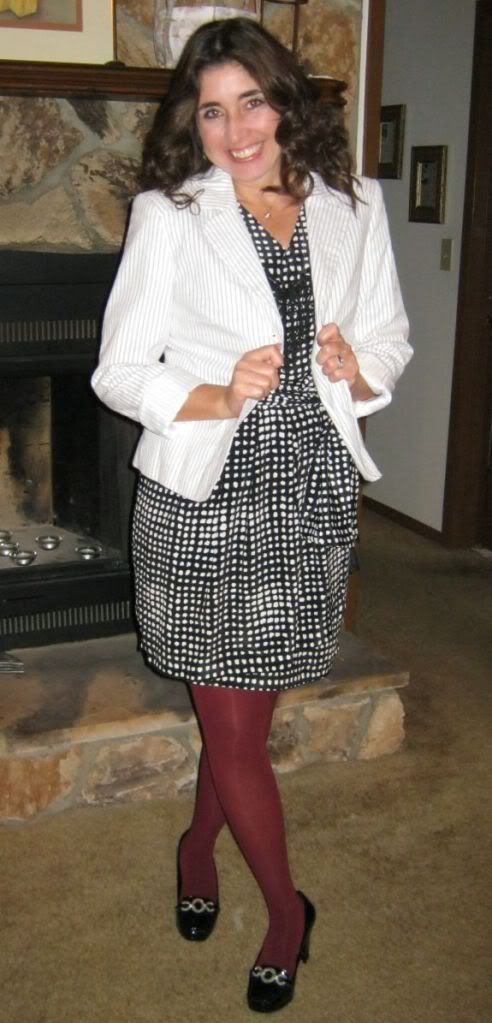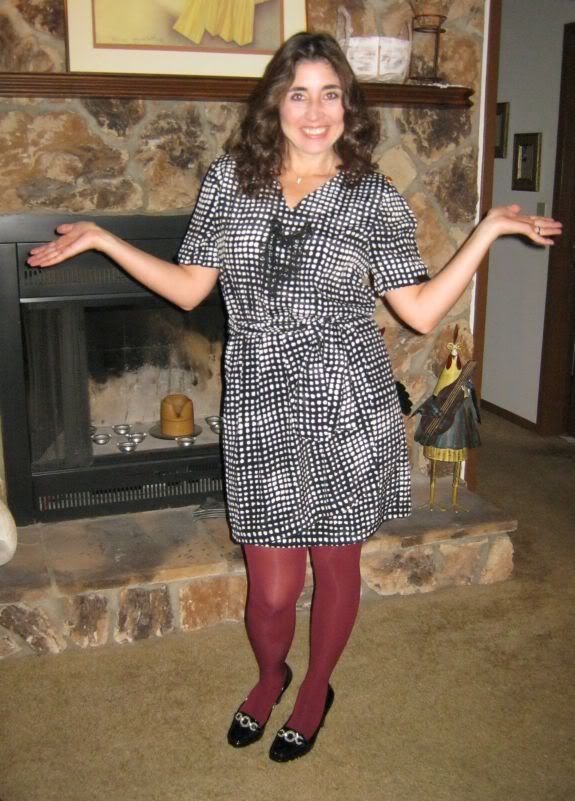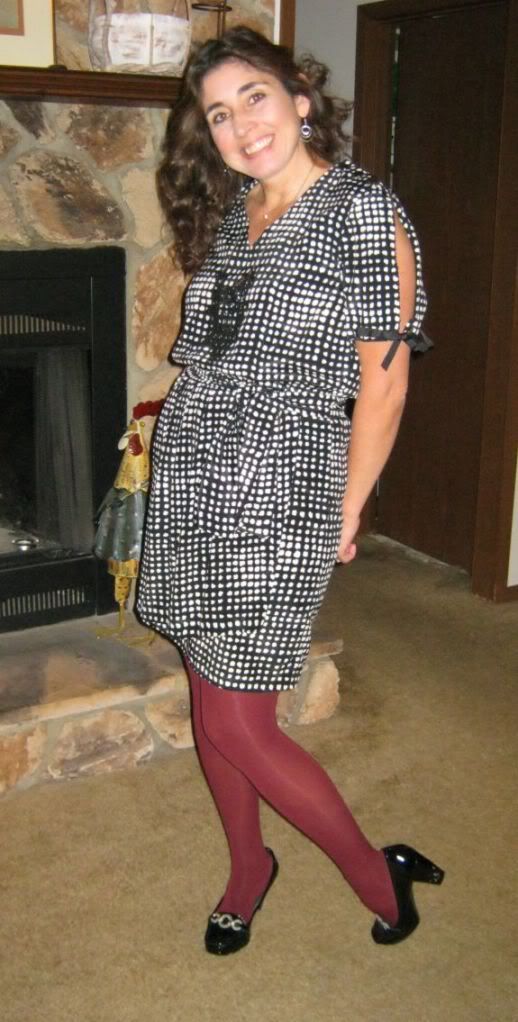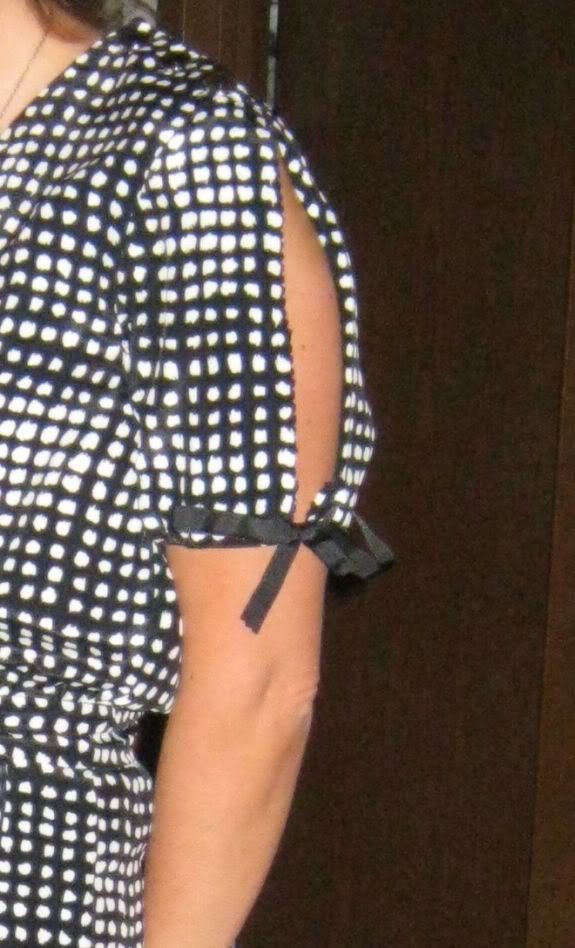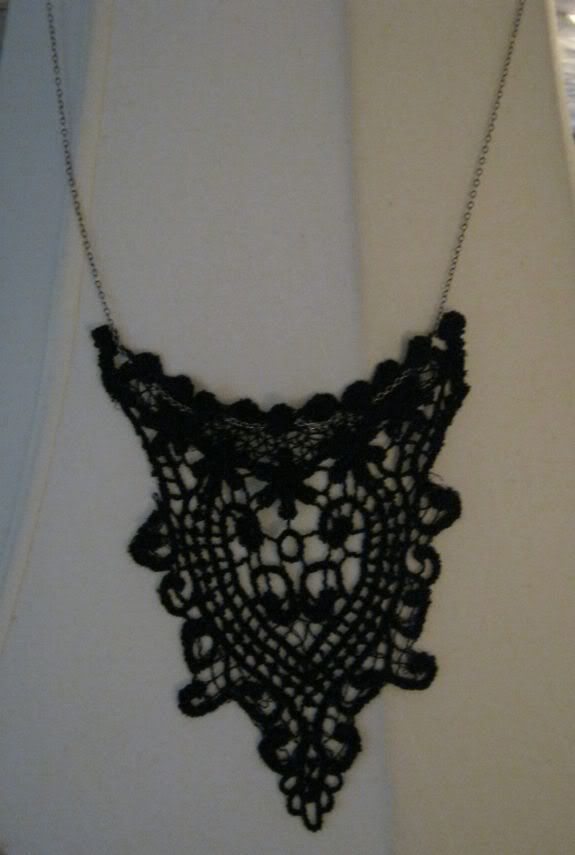 Dress and shoes......thrifted and refashioned!
Necklace...... Handmade
Jacket......Macy's
Look of Self Satisfaction......an old accessory I need to use more often
Because I love Rick Astley and his style AND because this is how I feel about my once "Cast off" dress!