Thrifting has ruined me! It's true. I'm ruined. Yesterday, I missed Friend Friday post because at the last minute I had the opportunity to drive to Charlotte with Sweet Baby. After he finished up some things at his office, we went to a mall on the expensive side of Charlotte. My daughter and I checked out Anthropolgy, Macy's, Dillards and a couple of other places. You know what I kept thinking at every store? "$12 for a pair of socks?!" or "$20 for tights?!" or even "$150 for a pair of BOOTS?!?!" I have to tell you, Anthropology is one of my alltime favorite stores. It's FABULOUS, AMAZING, WONDERFUL and EXPENSIVE! After so much thrifting and being thrilled with what I've picked up, when I see $25 tights, I think, "I've spent less than that at my favorite Thrift Store and walked out with 6 pair of shoes and a gorgeous dress!" I just can't wrap my brain around spending that kind of money on TIGHTS. Then, my daughter and I are looking at some adorable headbands (lowest priced - $32, for a HEADBAND!) and I'm listening to myself say, "Oh my gosh, we can make this same headband by hotgluing flowers to a plain Walmart headband!" In fact, that's what I think we're going to do for my daughter to give as Christmas gifts. I even saw earrings and necklaces at Anthropology that could be replicated with thrifted items and some jewelry making supplies.
I love learning things about myself. Even at my age, I'm discovering new things about old Serene! Yesterday, I discovered that I'm a little more frugal than I thought. I also discovered that what really gets me excited...I mean heart pumping, chomping at the bit, wanting to jump up and down and do a happy dance is the creative process. My favorite part of blogging is putting together the outfits and refabulousing found items. The picture taking is fun, but it's not what stimulates me. I've discovered that in my heart I'm an artist and my canvas is the female form. What does your heart tell you about yourself? No matter our age, discovering ourselves is one of life's greatest adventurers (another thing I am at heart!!)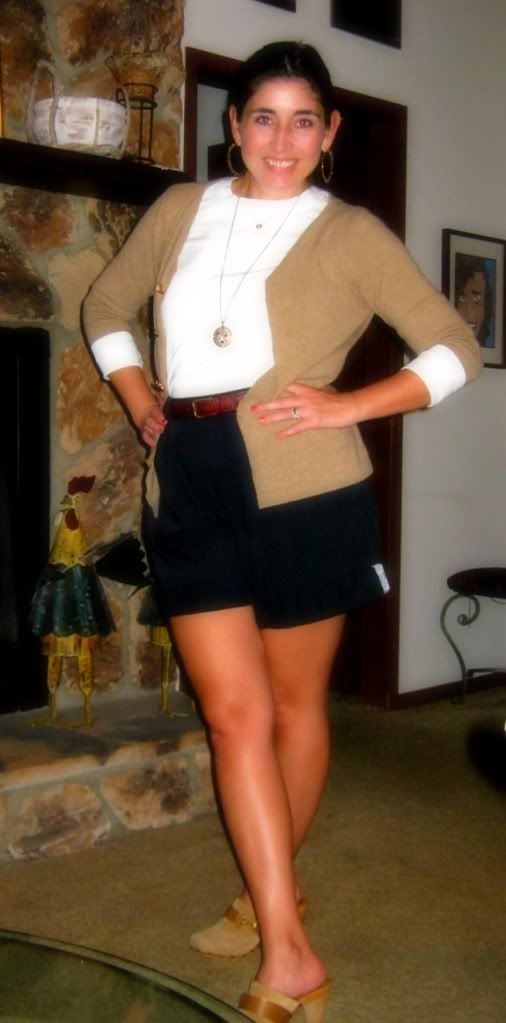 My youngest son and daughter! Numbers 3 & 4!
Shorts......vintage, thrifted and tweaked!
Sweater...... Inherited Cashmere pullover that I refashioned into a cardigan
Shoes......Coach clogs inherited from my mom
White top......had forever
In the mood for the best thing to come out of Columbia! Juanes!