I really wanted to be productive yesterday. I have a closet that desparately needs to be organized and I have a bedside table that was overflowing with "stuff". One of my biggest challenges that I had though, was organizing my jewelry. I inherited alot of pretty things from my mom a few years ago. I've been thinking about her so much lately. She died from cancer 5 years ago this December. She was only 56 years old. We knew that her cancer was terminal when she was diagnosed about 1 year earlier. My parents divorced when I was 3 and I never lived with my mom. Just how the divorce papers were drafted. My mother moved here from her home country of Germany when she was 12 years old. She never met her father, supposedly a former French soldier in the Surete. She married my father when she was 16 years old and had me a little less than a year later. I really thought that I'd have her for so many years to come, that we'd be able to share so many more wonderful memories together. But, it just wasn't to be. She passed away in my home surrounded by those who loved her most. There is something a little comforting to know that she and I were together when I came into this world and we were together when she left it. She was the most beautiful dignified woman! Her taste was simply impeccable and impeccably simple! So, back to her jewelry, much of jewelry I have belonged to her and I think I wear it far more than she ever did.
We live in a small and very quaint townhouse; so it's important that I maximize our space. I had jewelry in boxes, hanging on statuettes, in little trinkets.....just everywhere!! I really did not know what I have and how to put my hands on it quickly. Therefore, I know I wasn't really using my jewelry to it's potential. I came up with a bulletin board idea. It's beautiful to look at AND it lets me SEE exactly what I have. I also found a small 3 drawer paper file that I stored my bracelets in. I ADORE cuff bracelets. I THRILLED with the results and for about $30 and no more space, I now know exactly how fortunate I am to have such pretty things! Thank You Momma!!!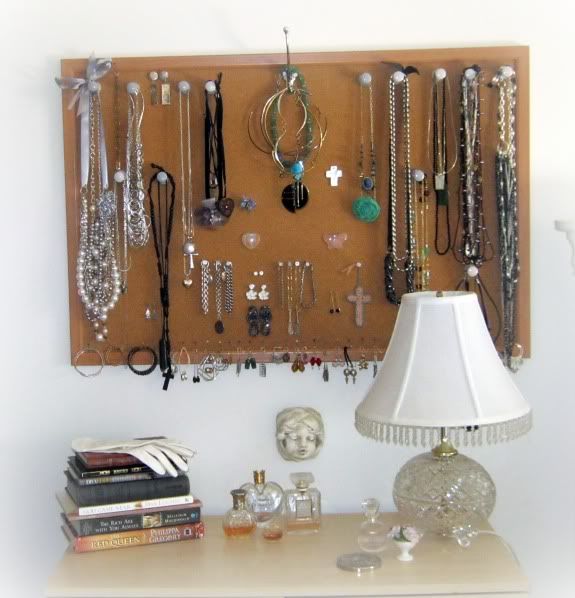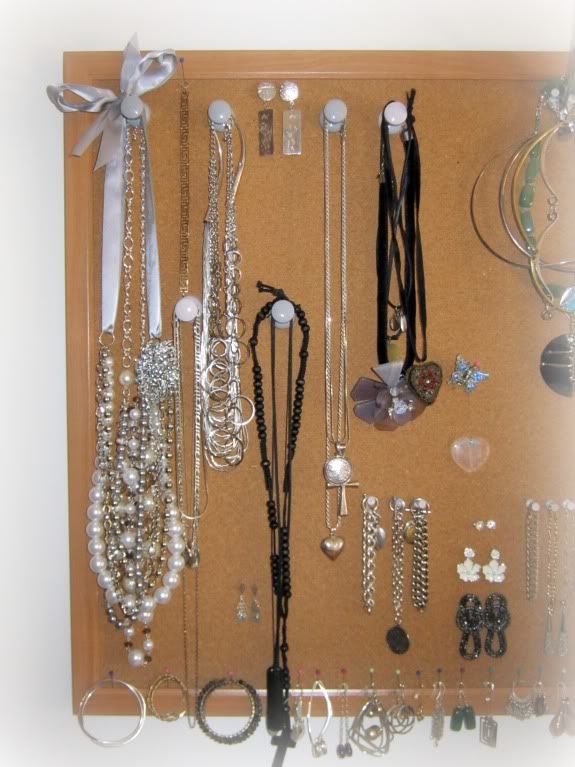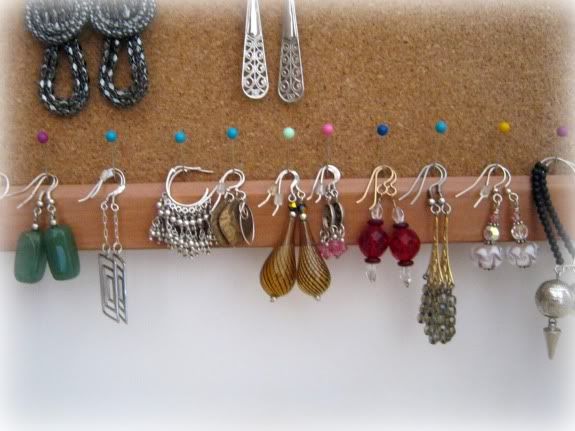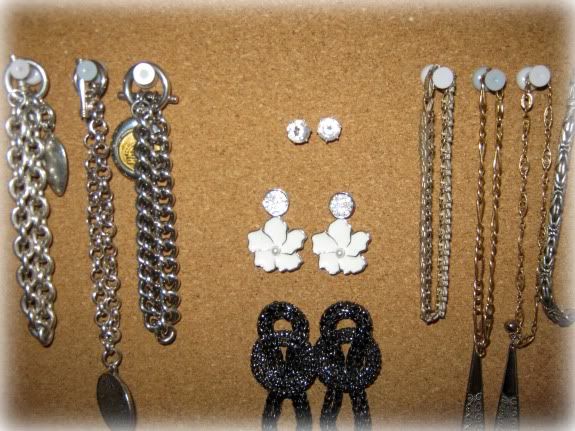 Any great ideas on how to organize a closet or accessories?! That's my next project.