If you were a fly on the wall in my house this morning, you'd see me in my big warm bathrobe sitting on my couch, feet perched up on my homemade coffee table, coffee in one hand and computer in lap. And you know what you'd catch me watching? LAVERNE AND SHIRLEY! Except, unlike when I was in third grade watching them rooting for Carmine and Shirley and laughing at the ever present L on Laverne's chest...now I'm coveting these gorgeous cardigans and pencil skirts!!! I never realized how stylish these girls were. And their little basement apartment? How ADORABLE was that?!
Now fast forward to 7:30pm and I'm home, in the kitchen with Will and Grace on TV sitting at my table with coffee (now decaf...did I mention I love coffee?) and uploading my pictures from today. I love home. I love being home, the smell of home. I love looking around and seeing our things and how my husband and I combined our homes, families and lives. I'm making myself so sentimental just typing this. Oh crap, I'm pmsing! Anyhoo, I feel so clever with my outfit today. 2 weeks ago it was a long,80s left over, shoulder padded, balloony blousy top blousing over the accorion pleated skirt DRESS. I just loved the pattern, the smallest of animal prints. So I took it in my arms, whispered in it's ear, "Come with me baby. I can make you bettah!" and wisked it off to my casbah! I cut it in half, now having a great top AND skirt. Then I took off about 8 inches from the skirt, folded over part of the top that was not pleated and put in an elastic waist band. I wore the two pieces together this morning with the black belt and then was looking for a sweater to throw on over. I put this on and loved it so much, I decided to just belt it and "Houston, we have an outfit!" I'm WILD about it and I do love feeling clever! Would love to hear about some other clever creations!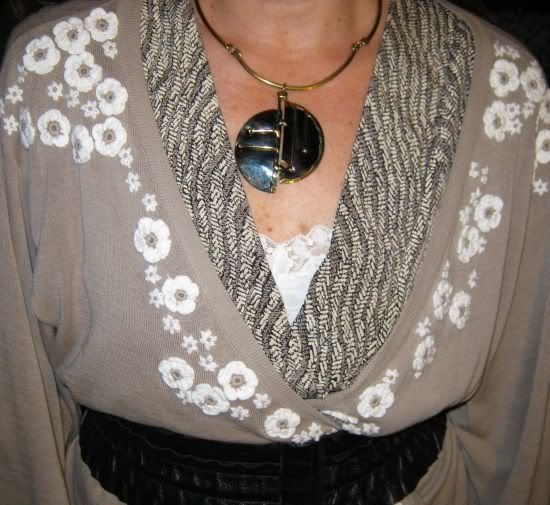 Top/Skirt=Dress...... Thrifted ($3.50?)
Sweater......Coldwater Creek Outlet($ can't remember)
Shoes.......Gifted
Necklace.......Inherited from my wonderfully stylish and fabulous mother
Belt.......DonCaster Tanner ($10?)
Because I got to use the word "casbah" in my post!